Image Details
---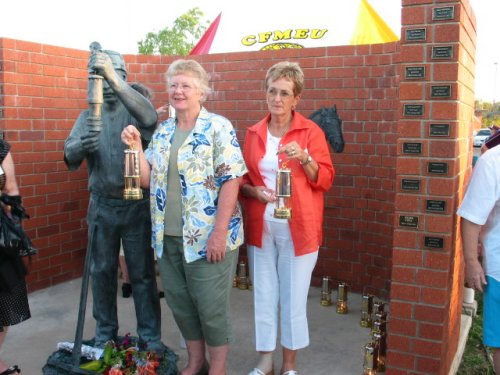 ID: 9880
Date: 2004
Donated By:

Description: Collinsville State Mine Disaster 50th Anniversary Memorial Day

L-R: Leila Porter (daughter of Peter Miller killed in disaster) and Melva Skellern (daughter of Alex Parkinson killed in disaster).

Comments
---
Click here to add a new comment
Leila Porter:ID9880 My married name is Leila Porter (not MacKenzie).
:Was it MacKenzie
JP:Left is Leila Miller (married name unknown)
Carolyn Upton:The lady in the red shirt is Melva Skellern (nee Parkinson) and she is the youngest daughter of Alex Parkinson, who was killed in the 1954 mining accident, however the other lady is not one of his daughters. Alex and Jean's oldest daughter, Norma, was there on this day, but is not depicted here.