Image Details
---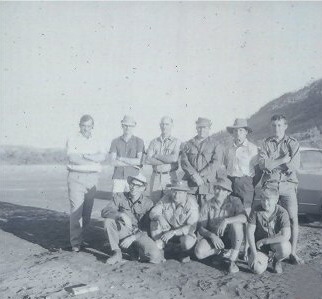 ID: 7441
Date: 1959/60
Donated By:

Description: A fishing trip to Hook Island, taken before boarding the boat. Photo was taken by Vic Cruze.

Back L-R: Bill M? (from Bowen), Herman Fisher/Fischer, Noel Hjortshoj, Les Beauchamp, Albert List?, Roy Gorry?. Front L-R: Roy Hjortshoj, Don Malcolm, Harry Watts, unknown.

Comments
---
Click here to add a new comment
:7441: Herman Fisher (or Fischer, not sure) electrician. Worked underground at Collinsville Coal and then Snells. Used to come up for many years and fix our white goods.
:back l-r Bill M? (from Bowen) Herman the German (sorry do not recall surname) Noel Hjortshoj, Les Beauchamp, could be Albert List R end may be Roy Gorry front Roy Hjortshoj, Don Malcolm, Harry Watts, unknown lad. photo was 1959/60 fishing trip to Hook Island and taken before boarding the boat. photo was taken by VIc Cruze(unsure of spelling)
MM:Help with names plse. Think left 3rd back Noel Hjortshoj and front left Roy Hjortshoj