Image Details
---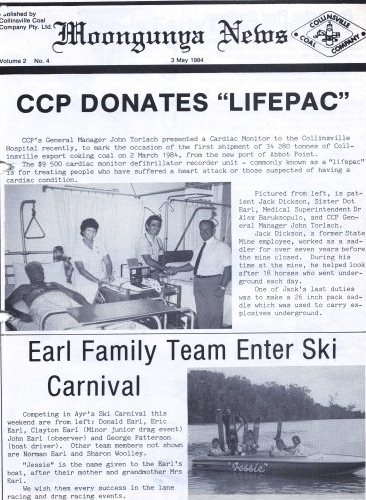 ID: 891
Date: 1984
Donated By:

Description: Moongunya News 1984

CCP DONATES "LIFEPAC" - General Manager John Torlach presented a Cardiac Monitor to the Collinsville Hospital. Photo L-R: Jack Dickson (patient), Sr Dot Earl, Dr Alex Baruksopulo and John Torlach. Bottom: Earl Family Team Enter Ski Carnival - Competing in the Ayr Ski Carnival. Photo from left: Donald Earl, Eric Earl, Clayton Earl, John Earl and George Patterson (Boat driver).

Comments
---
Click here to add a new comment
Debbie Hillier:Dr Alec Baraksopulo not Barry.
:Add to top photo - Jack Dickson in bed, Sr. Dot Earl and Dr. Barry Baruksopulo with John TorlacK.