Image Details
---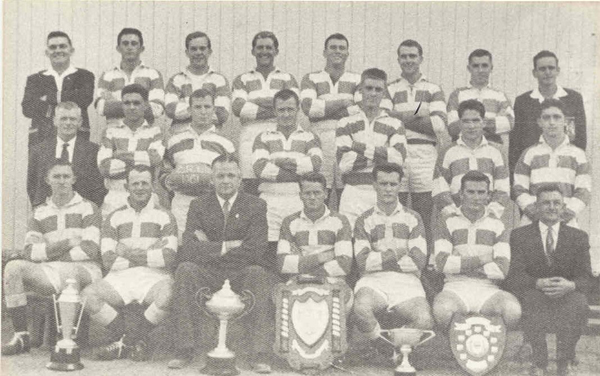 ID: 7925
Date: 1961
Donated By: Margaret Morrissey

Description: 1961 Collinsville Rugby League side that defeated Milla Milla 18-16 at Townsville in the White Cabs B Grade Shield Final. Collinsville also won U18 and U20 games that day.

Back L-R: John Currie (Coach), Fred Bird, Sid Ruskin, Richard Hall, Bob OConnor, John McFadzen, Ray Barrett, Clem Fell (Selector/Manager). Second Row L-R: Paddy Meechan (Selector/Manager), Henry Duncan, Frank Sexton, Pat Ballantyne, Rodney Budge, Kevin Doonan, Wally Thomas. Front L-R: Clarrie Martin, John (Bluey) Higginsen (Captain), Wally Gill (President), Bill Morrissey, Reg Goldup, Garth Budge, Roy Thompson (Manager/Selector).

Comments
---
Click here to add a new comment
Russell Buckley:Should also mention the trifecta that day when U18,U20 and Senior all won
Russell Buckley:Tom OConnor should be Bob O''Connor
MM:Should be John McFadzen not Ian