Image Details
---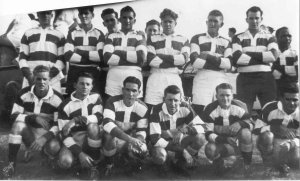 ID: 7900
Date: Unknown
Donated By: Margaret Morrissey

Description: Collinsville Rugby League Team

Back L-R: Eddie Martin, Ray Brunker, Tony Brunker, Ray Atto, Stan Hathaway (manager) Allan Atto, Noel Collins, Jim Tudehope, Charlie Roberts. Front L-R: Kevin Callaghan, Kevin Jones, Kevin Doonan, Wally Nisbet, Bill Morrissey, Stuart Doonan.

Comments
---
Click here to add a new comment
Rosemary Mortensen:I have an undamaged photo of this if you would like it. My father is Kevin Callaghan.
JP:Sorry about that, all fixed now.
MM:Charlie Roberts should be beside Jim Tudehope in back row
MM:Unknown is Charlie Roberts