Image Details
---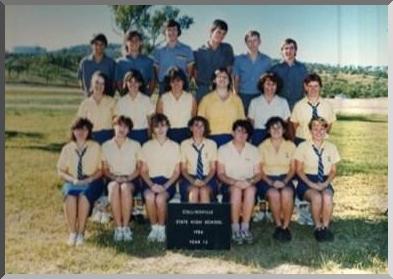 ID: 7530
Date: 1986
Donated By: Collinsville State High School

Description: Collinsville State High School, Year 12, 1986

Front L-R: Ardell Firth, Megan Williams, Theresa Fisher, Jodie Tilney, Frances Pujolas, Connie Whyte, Sharon Gerussi. Middle L-R: Karen Klemm, Jill Hatchett, Tanya Williams, Amanda Gorry, Debbie Haller, Ann-Marie Whelan. Back L-R: Peter Bosca, Tony Cosentino, David Crozier, Barry Sloan, John Janssen, Craig Campbell.

Comments
---
Click here to add a new comment
Theresa Fisher:Unknown front Theresa Fisher
david crozier:This photo is of year 12 in 1986, not year 11.
Craig Campbell:Unknowns: Front row centre next to Francis is Jodie Tillney After Francis is Connie Whyte and Sharon Gerussi Back row - it is John Janssen not Peter