Image Details
---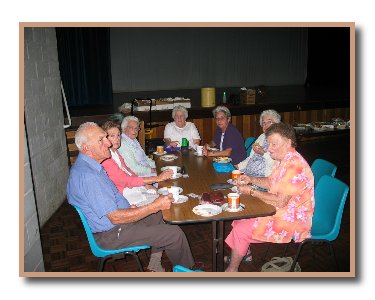 ID: 7075
Date: Unknown
Donated By:

Description: Collinsville Pensioner's Morning Tea and Bingo

L-R: Stan McLeod, unknown, Jean Batchelor, Beryl Aspinall, unknown, Jane Davies, Sophie Whitton.

Comments
---
Click here to add a new comment
:From the left - Stan McLeod, ??, Jean Batchelor,Beryl Aspinall, ??, Jane Davies, Sophie Whitton Doubt MOW photo, looks more like a Pensioner''s day on Thursdays. They have the far right table set as such each Thursday for morning tea and the boxes on stage would be the Bingo Card boxes.