Image Details
---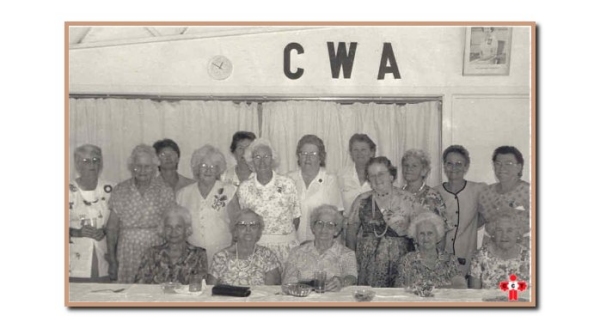 ID: 6640
Date: 1980s
Donated By:

Description: Collinsville Community Clubs QCWA

L-R: Maisie Sloan, Mary Williams, Freda Whalen, Doreen White, Beryl Aspinall, Dell Henderson, Maisie Stewart, Glady Wallace, Val Elliott, Sophie Whitton. Seated L-R: Mrs Millikin, Bec Gall, Bess Laird, Bess Henderson, Edna Wallace. Far back Beryl Jones & Bev Baguley.

Comments
---
Click here to add a new comment
Andrew Speirs:Image has a picture of Queen Liz in the background - so must be after she came to the throne 1954?
MM:unknown obscured lady is Bev Baguley
Margaret Morrissey:I agree Jeanette , believe I took the photo.
Jeanette Poole:This can't be 1941. Anyone??
:L-R -Maisie Sloan, Mary Williams, Freda Whalen, Doreen White, Beryl Aspinall, Dell Henderson, Maisie Stewart, Glady Wallace, Val Elliott Sophie Whitton seated- L-R Mrs Millikin, Bec Gall, Bess Laird, Bess Henderson, Edna Wallace, Far back Beryl Jones & unknown obscured lady