Image Details
---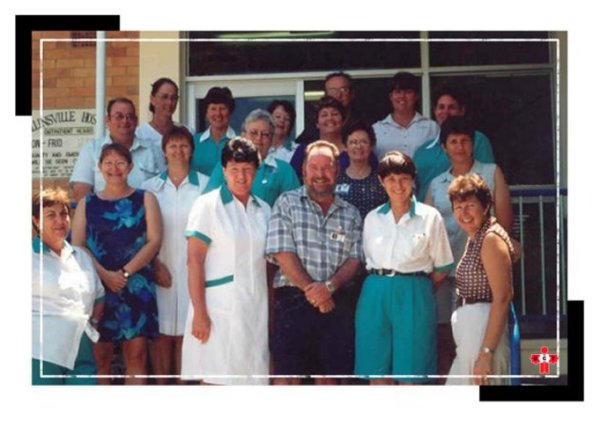 ID: 6014
Date: Unknown
Donated By:

Description: Collinsville Hospital Staff

Front L-R: Dot Costigan, Mike Webster, Mavis McArdle, Dani Malcolm. 2nd row L-R: Donna Hoppo, Toni Gray, Lyn Elliot, Margaret Hjortshoj, Denise Hall, Donna Martin. Back L-R: Breen Austin, unknown, unknown, Florence Watts, Kerry Woolley, Melvin Drinkwater, Katrina Kennedy, Tanya Williams.

Comments
---
Click here to add a new comment
Mavis McArdle:Between Dot Costigan an Mavis McArdle is Mike Webster
Chris Howarth:In front of Melvin Drinkwater is Kerry Woolley
:Its "Breen Austin" not Brent
:Brent Austin Unknown next to Katrina Kennedy on end is Tanya WIlliams
:Back row Brent ?,next 2 unknown, Florence Watts, Melvin Drinkwater,Katrina Kennedy, unknown.
:6014 -few names help plse Front L-R Dot Costigan, unknown, Mavis McArdle, Dani Malcolm 2nd row Donna Hoppo, Toni Gray, Lyn Elliot, Margaret Hjortshoj, Denise Hall, Donna Martin back row - is it Brent ?, Florence Watts, Melvin Drinkwater, ? Katrina Kennedy unknown