Image Details
---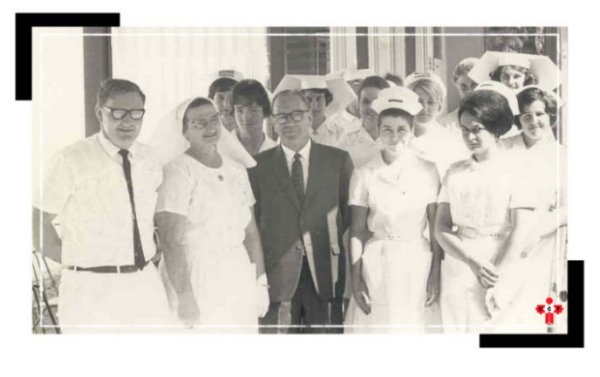 ID: 6009
Date: Unknown
Donated By:

Description: Collinsville Hospital Staff

Front L-R: Dr Bill Hefferan, Matron Gertie Herbert, unknown, Julie Lehrke, Margaret Williams, Norma O'Hanlon. Back L-R: Colleen Bird, Dot Hardy, Marion Brown, Maureen Doig, Maren Groocock, Jane Morris, Maureen Gough.

Comments
---
Click here to add a new comment
margaret barraclough nee williams:The person between Marion Brown and Maren Groocock is Maureen Doig.
Julie Lehrke:Great photo to have in my memory book
maren sologinkin:The person standing behind dot is colleen bird. Julies last named is spelt (Lehrke)
Margaret Barraclough (Nee Williams):The person with the veil standing behind Norma and in front of Jane is Maureen Gough
:Think Jane Morris meant not Jayne Morrisey
Maren Sologinkin(nee-groocock):The person standing behind Margaret Williams is Norma O'Hanlon Am also sure the person next to Jayne Morrisery is Maureen Gough
: Julie Lurkie 2nd front end
:Dr Bill Hefferan Marion Tilney nee (Brown) Julie Lurkie (not sure of spelling) married Roy Thompson
: front row L-R -Dr. ?, Matron Gertie Herbert, ? , ? Morris , Margaret Williams, Lyn Richards. Middle L-R Dot Hardy, Marion ? (Tilney marr. name), ? , ? , Rae Gray . Obscured faces are unknown