Image Details
---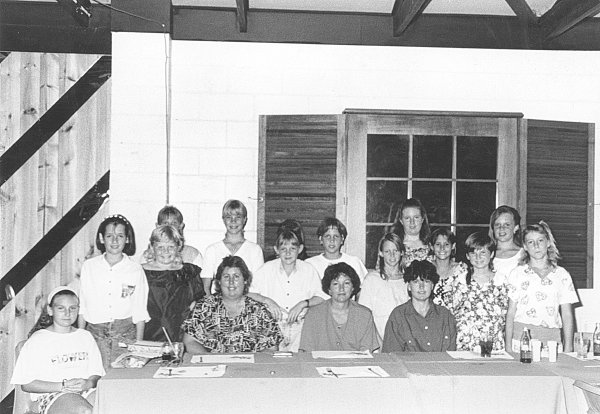 ID: 5552
Date: 1992/93
Donated By: Historical Society

Description: Collinsville Pioneers Historical Society. Girl Guide group break up party at the Town & Country about 1992/93

L-R: Kaycee Janz, Nicole Jaques, Kirsty Chant, Amanda Swift (partly obscured) Lisa Bowden, Karissa Smith, Kylie Murphy, Rachel Chatfield, Kirsty Cairns, Leah Hathaway, Shannon Honnery, unknown behind Shannon, Melanie Chatfield. Three seated in front: Deborah Hathaway (District Governor) Grace Cairns, Leola Janz.

Comments
---
Click here to add a new comment
Kirsty Chant:Thanks Tara, spelling is a tad wrong though :) I am Girl Chant.
Tara Cairns:Girl Chant is Kisty Chant
:These names given by Debbie Hathaway Dist Gov of time who is in photo
Frances Pujolas:Left - Kayce Janz 2nd from left looks like Nicole Jacques to me
MM: L-R Casey Janz, Nicole Janz, girl Chant, Amanda Swift (partly obscured) Lisa Bowden, Karissa Smith, Kylie Murphy, Rachel Chatfield, Kirsty Cairns, Leah Hathaway, Shannon Honnery, unknown behind Shannon, Melanie Chatfield. 3 3eated in front Deborah Hathaway (District Governor) Grace Cairns, Leola Janz. It is a Girl Guide group break up party at the Town & Country about 1992/93