Image Details
---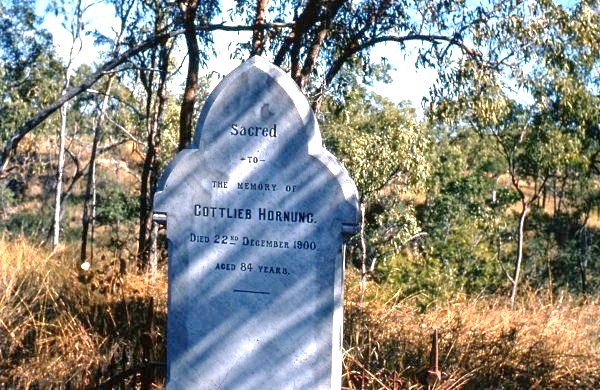 ID: 5365
Date: Unknown
Donated By: Unknown

Description: Collinsville Old Graves

Gottlieb Hornung, died 22 December 1900, aged 84 years. Gottlieb Hornung applied for a liquor licence in 1864 to trade as the Heidelberg Inn. He stated he was married with 3 children. The licence was granted in 1865.

Comments
---
Click here to add a new comment
Lola Couvee:Does anyone have any idea when and where Maria Hornung [nee Cooney] was born or have any idea when and where she died? I am researching this family and with so many similar names solar powered toys and wrong spellings it is so hard to find the right information.
Jeanette:Veronica, your email address has been passed on to Lisa.
Veronica O''Brien:I would like to make contact via email with Lisa Burton. If you could pass on my email address to her please Jeannette. Not certain If I will be able to help. I will need more information. As far as I know my Hornung Ancestors came out on the "Helene", but I havent researched another Hornung by the name of Ludwig Hornung, who I believe may also be a relative. Still no feedback on Byerwen Station. I have copies of some old photos of Byerwen supplied to me by a Ferguson relative. Do Memoirs OnLine have any information on the following stations? Havilah, Byerwen and Birralee Stations? Gottleib and Elizabeth Hornung (nee Boer), first settled on Havilah Station circa 1860s. Would also be interested in any information on Normandy or Normanby? Goldfields, and a property at Rosebank, where Gottleibs daughter Christine settled with her husband Dauvt Fischer. Does anyone know where Rosebank was located in the Collinsville/Bowen area?
Lisa Burton:I am hoping someone interested in the HORNUNG family can assist me with an individual (likely male) of this name who arrived 1857 on the "Pauline" from Bremen. I'm afraid I can't give a Christian name, that's part of the problem! However, perhaps someone who has researched the various branches of this family here in Australia may be able to 'narrow the field'. I certainly hope so! Looking forward to a response. Rgs Lisa Burton
Jeanette:Thanks for your information Veronica. I have passed on your email address to Carol W.
Veronica O'Brien:VO'B: I am a GGNiece of Gottleib Hornung. Have visited Bowen River several times during the last 3 years. Gottleib Hornung immigrated from Hamburg, Germany on the "Helene" 27/11/1855->28/3/1956.He was born in the village of Lehrensteinfeld, Germany 21/9/1816, approx. 73klms south of Heidleberg. He married Elizabeth Boer 16/4/1844. His brother Johann George Hornung was my GGGrandfather. Johann Gottleib Hornung who immigrated at the same time was Gottleib Hornung's nephew (son of Johann George). Johann Gottleib Hornung is buried in the Normandy Goldfield. I have further information on above if you are interested. I would also like to make contact with Carol W. I have been researching the Hornung family, and have visited Bowen Cemetery where Mary, William Snr & William Jnr are buried. Mary Hornungs D. Cert. was witnessed by her nephew John Stanley of George Str, Bowen. I would be interested in knowing more of the Stanley family. I am visiting Ireland and Germany in a few months and would like to make contact before I leave. I also have some fascinating newspaper articles from 19th century newspapers, in which John Gottleib Hornung discusses the quality of coal in the Mt Wyatt and Collinsville Districts. I have left a copy of that article with the proprietor of the Bowen River Hotel. Would appreciate any info to aid in my further research. Also trying to find information on Byerwen Station, as my GGGrandfather George Smith was Manager there circa 1880.
Carol W:I have a William George Hornung married to Mary Stanley abt 1876 (source qld bmd 1876/C16) They had a son William Stanley Hornung born 9 MArch 1870 died Bowen 13 Sept 1903. Mary Stanley came to aboard on SS New Guinea with her sister Kate arriving 24-2-1886. I have more information to share if anybody is interested. Mary Stanley is a sister to my great great grandfather William Stanley. I think I have all the inforamtion correct. See Collinsville coalface esperience webpage under pastrolists which shows that William George Hornung was the licencee and his wife MAry ecame the owner and leased it to somebody else.
MM: Mine found could be a different family. Can't be Wm George Hornung I found born 1868 if father had 3 children when applying for licence in 1864. From 1829 - 1914 -4 births found for John Gottleib ( spelt as -ie ) and Maria Cooney. 1867 Catherine: 1868 Wm George (but mother as Maud Cooney used diff. name maybe?) : 1870 John Frederick: 1872: Mary Alexandra (but has parents as Johann Gottlieb (first name spelt differently) & Maria Cooney: Another Wm George Hornung found married in 1876 to Mary Stanley not one I found birth of as he is too young for marr. of this date.
:L.F. Information I have (not necessarily correct) says Gottleib applied for a liquor licence in 1864 to trade as the Heidelberg Inn. Stated he was married with 3 children. Licence granted 1865. In 1871, William George (son of Gottleib) was granted the licence. 1878 licence granted to G. Hornung. Bowen paper 'The Mirror' 7.4.1899 - Renewal of licence to W.G. Hornung.
MM:Forget to say on John Gottleib marriage spelling is Gottlieb, the i and e reversed. There is also another son John Frederick born 1870, died 1939.
MM: This may be a little more info about them.Checked on Qld. BDM William George Hornung born 1868, parents were John Gottleib Hornung and Maud Cooney married 1866 but on the marriage detail of parents it says Maria Cooney. Not unusual for first names to be different as birth cert's did not need to be given then.
Jeanette:A Liquor Licence was issued to William George Hornung in 1889 and the premises went into legalised liquor trading under the name of the Heidleberg Inn. Gottleib Hornung may have been the father of WG Hornung.
:5365. Grave of Gottleib Hornung. Is this the one at the Bowen River pub. Was he the owner of the pub.