Image Details
---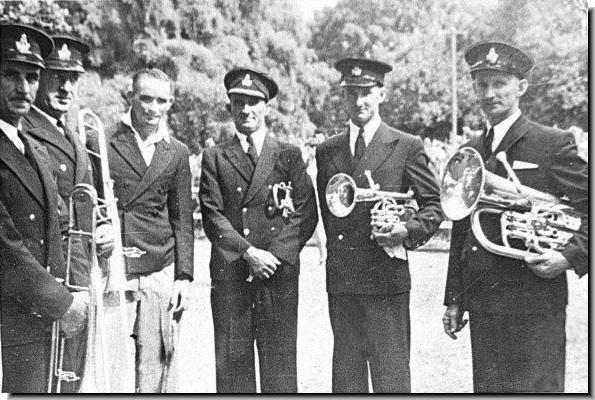 ID: 5030
Date: Unknown
Donated By: Historical Society

Description: Old Bands Historical Society

L-R: Eddie Prohaska, Frank Prohaska, possibly Cyril Prohaska, Poley Prohaska, John Prohaska and Bill Prohaska.

Comments
---
Click here to add a new comment
JP: Is the unknown man Cyril Prohaska?
Band Man:Prohaska CHILDREN Mathilde 1896-1980 Leopold 1898-1987 Franz 1900-1903 Elizabeth 1902-1902 Maria 1903-1903 Wilhelm 1905 - 1988 Heinrich 1907-1978 Eduard Josef 1909-1993 Jani Arthur 1911-1994 Franc Josef 1913-1962 Wilhelmina Kathleen 1916-2008
Band Man:http://trove.nla.gov.au/newspaper/article/193100876
Band Man:Death of Mr C Prohaska Another well known resident of Collinsville. Cyril Prohaska, passed Fix this textaway peacefully at the Hospital on Monday morning last after a lengthy , illness, at the age of 61years. The deceased gentleman, who was born at Stelermark, Austria; had resided in Australia for the past 25 years, firstly in the Rockhampton district, and for many years at Howard, where he followed, coal mining and had, spent: the last nine years in Collinsville in the same calling. He had been a keen bandsman in his earlier years and had also been a member of the Collinsville band a few years ago a vocation in herited by his six sons, who were also members of the band, his eldest son, Mr L Prohaska, being bandmaster. He leaves a sorrowing wife and a grown up family of six sons and two daugh ters to mourn their loss. The funeral which was well attended, left his late residence at 3pm. on Monday after noon, and, a large number of his workmates marched, with the cortege. Mr M Davies read the last sad rites at the graveside.
Jeanette:Good to have these names in the correct order. Thanks Patricia.
Patricia Schafer (Prohaska):All the bandsmen are correctly named. However the man 3rd from the left who is not in uniform is definitely NOT Heinrich (Heini) Prohaska. There never was a Henry.
MM:L-R Eddie, Frank, may be Henry, Poley, John and Bill Prohaska. Names put in order by by Wilfred Nott.
:5030. Probably all Prohaska family. Bill, Poley, Eddie, Henry, John, Frank.