Image Details
---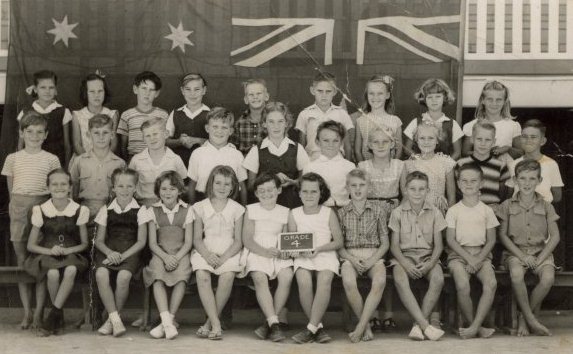 ID: 4325
Date: 1958
Donated By: Chris Howarth

Description: Collinsville State School, Grade 4, 1958

L to R, BACK: Joan Gulliver, Lorraine Walsh, Lloyd Martin, Barbara Hill, Russell Bulloch, Walter Bulloch, Lynne Barrett, Beverley Hart, Pat Clark. CENTRE: Wallace Logan, Trevor McGowan, Greg Torkington, Bernard McFadzen, Lynette Sedgeman, John Firth, Gail Kirkwood, Ann Smithson, Chris Howarth, Charlie Forrest. FRONT: Margaret Fell, Lynne Richards, Doreen McLean, girl Ackley?, Diane Davy, Kerry Watson, Grant Oliver, Steven Lorroway, Clive Widt, Bob Drinkwater.

Comments
---
Click here to add a new comment
Graham Thomas:Thanks Chris , Yes you are right about the photos, a great help, thanks a lot.
Chris Howarth:G''day Graham, There is a photo in Collinsville Memoirs Online with you in it. It is Image ID 1674 and is our grade VI class photo 1960. There is another, ID 1674 which has your sister Denise in it. There is also a K.Thomas in ID 1679, i don''t know if that is a sister of yours.
Graham Thomas:Gidday Chris I used to know all of you people in the photo you have posted up Good memories of that time Thanks Cheers
Chris Howarth:Collinsville State School,Grade 4,1958,L to R,BACK:Joan Gulliver,Lorraine Walsh,Lloyd Martin,Barbara Hill,Russell Bulloch,Walter Bulloch,Lynne Barrett,Beverley Hart,Pat Clark CENTRE: Wallace Logan,Trevor McGowan,Greg Torkington,Bernard McFadzen,Lynette Sedgeman,John Firth,Gail Kirkwood,Ann Smithson,Chris Howarth,Charlie Forrest FRONT:Margaret Fell,Lynne Richards,Doreen McLean,????Ackley???,Diane Davy,Kerry Watson,Grant Oliver,Steven Lorroway,Clive Widt,Bob Drinkwater