Image Details
---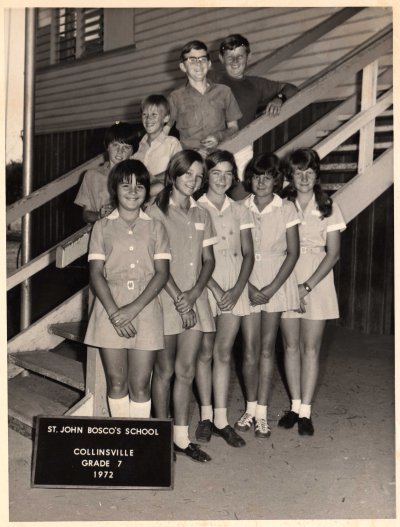 ID: 2315
Date: 1972
Donated By:

Description: St John Boscos School 1972

Girls L-R: Julie Trevaten, Diane Barry, Julie Sanderson, Annette Bulloch, Debbie Ishmael. Boys L-R: ? Ferguson, unknown, ? Crouther, Bobby Lote.

Comments
---
Click here to add a new comment
:BOBBY LOTE
Lyn Gutteridge:the person on the far right is Debby Ishmael, I am her sister Lyn, last year I attended the St John Bosco 75th reunion.
:yes is Julie Sanderson
:Julie Trevaten, Diane Barry, maybe Julie Sanderson, Anette Bulloch, Debbie Ishmael. Boys: ? Ferguson, unknown, ? Crouther, ? Lote
:l-r girls - unknown, ? Noeleen Gesler, ? Sanderson (need first name) Annette Bullock, Could be Debbie Ishmael
:middle girl is ? Sanderson next to her on R may be Annette Bulloch and on her L Could be Jenny Gesler